Rameswaram Travels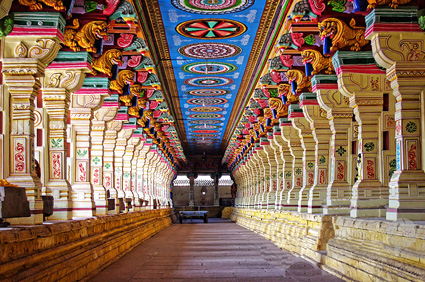 Raja Tours and Travels in Rameswaram provides a wide range of tailor-made integrated tours & event management services. Every tour & events is organized with a high standard of sophistication, perfection and assisted with full creative and innovative spirit. Tourism & events mean listen to our clients, anticipate & meet their needs, understand their core values& help them to achieve excellence as per their dreams.
Located at the southernmost tip of India, Rameshwaram may be better known a as temple town courtesy its connection with the epic Ramayana. However, when you come into this little town, you realise that it blends leisure, history, culture and spirituality seamlessly to give you an experience like no other.
Things to do in Rameshwaram :
Visit the Beaches
Explore the pillars and corridors in Ramanathaswamy Temple
Visit the Villondi Theertham.
Pay obeisance to Hanuman at the five-faced Hanuman Temple
Indulge in water sports
Visit the Jada Theertham
Go to the Sugreevar Temple
Visit the Water Bird Sanctuary
Visit Agni Theertham
Kalam House Museum
We offer you wide choice of Premium and Luxury Car options. We provide all the best brands for you to choose from, which are known for its Luxury Features & Comfort. Raja Tours & Travels in Rameshwaram provides the best incorporated in one, just for you !
We strive to continually improve your experience with our company and your feedback is very important to us. In case of any suggestions or questions, either fill the form http://rajatravelsrmm.com/madurai-to-rameshwaram-cab.aspx or drop us an email at rajatravelsrmm@gmail.com and one of our representatives will reply to you within 24 hours.